Nederlanders zijn dierenliefhebbers bij uitstek! Zo hebben we met zijn allen maar liefst 1,5 miljoen honden[1]. Hoewel het hebben van een hond tijd, toewijding en natuurlijk geld kost blijkt dus dat de gemiddelde Nederlander dit absoluut de moeite waard vindt en wie geeft ons ongelijk? Honden zijn enthousiast, knuffelbaar en blijken ook nog eens een positief effect op je gezondheid te hebben!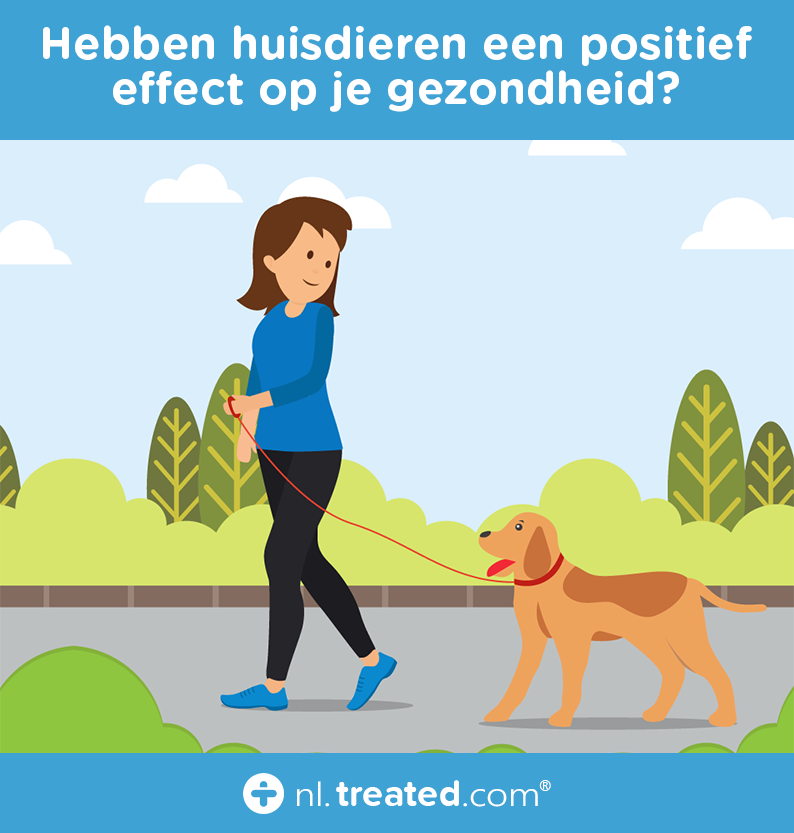 Hoe draagt je hond bij aan een betere gezondheid?
Veel hondeneigenaren zullen je vertellen dat hun hond meer een familielid dan een huisdier is. Het hebben van een hond heeft dan ook veel voordelen voor de mentale en fysieke gezondheid van hun baasjes, want honden geven je:
Eenzaamheid wordt een steeds groter probleem in Nederland want bijna 40% van de jongeren en zelfs meer dan de helft van alle 75-plussers voelt zich dagelijks eenzaam[2]. Gelukkig hebben we een kameraad in onze trouwe viervoeter en helpt onze hond ons mentaal beter te voelen. Wanneer er thuis een huisdier op je wacht verminderd dit je gevoel van eenzaamheid. Een hond is altijd blij om je te zien en wie glimlacht er niet wanneer je Golden Retriever met een klappende staart op je afrent als je de deur opent?
Een doel. Huisdieren zijn van ons afhankelijk voor voedsel, water, onderdak en beweging. Dit is een hele verantwoordelijkheid maar het geeft je wél elke dag een reden om op te staan en de deur uit te gaan, ook wanneer je niet zo lekker in je vel steekt. Dit start een positieve cyclus want door te wandelen maak je endorfine aan en dat vergroot je geluksgevoel weer.
Wanneer je een hond hebt kom je heel makkelijk aan je dagelijkse beweging en zo ga je overgewicht, depressie en hart-en vaatziekten tegen! Wil je afvallen voor de zomervakantie? Dan weet je zeker dat je aan je hond een goede trainingskameraad hebt want een extra wandeling of samen hardlopen is voor honden zeker geen straf!
Sociale interactie. Heb je wel eens geteld hoeveel mensen je 's ochtends groet tijdens het uitlaten van je hond? Werd dit opgevolgd door een gesprek over het weer, je baan of je plannen voor de zomer? Wanneer je moeite hebt met contacten leggen is het hebben van een hond ideaal en een makkelijke manier om in gesprek te raken. Praten tegen je hond – maak je geen zorgen, iedereen doet het – telt trouwens ook als sociale interactie en heeft een positief effect op je mentale gezondheid en gevoel van welzijn.
Wat zegt de wetenschap over het effect van honden op hun baasjes?
Het aaien van honden werkt rustgevend en verlaagt tijdelijk de bloeddruk en hartslag[3]. Heb je dus een hoge bloeddruk of veel stress op het werk dan heb je thuis gratis therapie in de vorm van je huisdier!
Volgens de Universiteit van Uppsala hebben hondeneigenaren 15% minder kans op vroegtijdig overlijden door cardiovasculaire aandoeningen[4] en dat is natuurlijk mooi meegenomen.
Volgens zeventien verschillende onderzoeken in psychiatrisch onderzoekstijdschrift BMC Psychiatry[5] is het hebben van een hond goed voor je psychische gesteldheid en kan het depressie, sociale angst en paniekaanvallen verminderen.
Kortom, de extra aandacht, liefde en beweging die je als baasje van je trouwe viervoeter krijgt doet wonderen voor je fysieke en mentale gesteldheid en dat mag gevierd worden!
[1] Aantal huisdieren in Nederland stijgt tot 33,4 miljoen (2015) Brancheorganisatie Divebo
[2] Eenzaamheid naar Leeftijd (2016) Ministerie van Volksgezondheid
[3] Cardiovascular effects of human-pet dog interactions (1988)
University of South Carolina
[4] Dog ownership and the risk of cardiovascular disease and death – a nationwide cohort study (2017) Scientific Reports volume 7, Article number: 15821
[5] The power of support from companion animals for people living with mental health problems: a systematic review and narrative synthesis of the evidence
(2018) BMC Psychiatry
Dit artikel is tot stand gekomen in samenwerking met Treated.com.