De Kooiker is een onafhankelijk hondje. Hij is speels, altijd klaar voor actie, maar beslist geen allemansvriend. Voordat hij zich als het ware 'gewonnen geeft' zul je eerst zijn vertrouwen echt moeten verdienen. Maar als dat gebeurt dan heb je er ook een vriend voor het leven bij.
Het Kooikerhondje is een ras van eigen bodem dat al eeuwenlang bestaat. De vroege voorouders van het Kooikertje zijn waarschijnlijk onder de Spaanse en Franse Spioenen te vinden, maar dat gaat heel ver terug. Er is geen ander Nederlands ras dat zo vaak op schilderijen is afgebeeld als de Kooiker, of in ieder geval honden die daar heel sterk op lijken. Onder andere op schilderijen van de 17eeeuwse Vermeer en Jan Steen is het hondje te zien. Er gaat ook een verhaal dat Willem de Zwijger in 1572 werd gered door zijn Kooikerhondje. Het dier zou zijn baas, die in een legerkamp te slapen lag, midden in de nacht wakker hebben gemaakt en op die manier hebben voorkomen dat Willem vermoord werd. Of dit verhaal waar is? Wie zal het zeggen. Er gaan ook verhalen dat het hier om een Mopshond ging. In ieder geval is het wel een sterk op een Kooiker gelijkende hond die gebeeldhouwd op het graf van Willem van Oranje ligt.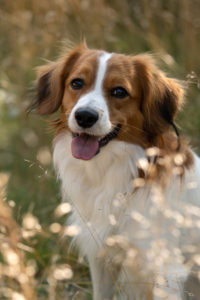 Eendenkooi
Zijn naam dankt het Kooikerhondje aan het werk in de eendenkooi. Veel spioenachtige honden werden eeuwen geleden al gebruikt voor de jacht op veerwild. Meestal gebeurde dit met behulp van traditionele jachttechnieken, maar Nederland is natuurlijk zeer rijk aan water. De eendenkooi is dan ook een Nederlandse uitvinding. In de eendenkooi verbleven levende lokeenden, de zogenaamde staleenden. Zij lokten met hun geroep de wilde eenden. Als die zich eenmaal in de kooi bevonden werden zij door het hondje dat de kooiker of kooibaas vergezelde verder de kooi ingelokt. Dat deed de hond door op en neer te lopen langs de vangpijp die aan de eendenkooi vastzat. De eenden zwommen nieuwsgierig achter de rechtopstaande witte pluimstaart van het hondje aan, de steeds smaller wordende vangpijp in. Daarna kwam de kooiker achter een rietscherm vandaan en joeg hij de eenden op waardoor ze in een vanghok terechtkwamen. Een andere taak van het Kooikerhondje was het verdelgen van allerlei ongedierte zoals ratten en muizen.
Lees het volledige artikel in Onze Hond nr. 8. Bestel hier van 24 september
Tekst: Jolien Schat | Foto's: Alice van Kempen
Tip van Onze Hond: het Kooikerhondje is dol op zwemmen.