Het is niet fijn als je een hond voor de camera krijgt die bang is voor die grote toeter. Maar wat maakt hem bang? De klik tijdens het maken van de foto, de flitser? Angst voor een fototoestel hoeft natuurlijk niet, maar hoe geef je je hond een rustig gevoel tijdens de fotoshoot. Je hebt een aardige trukendoos nodig om er een 'feestje' van te maken. In deze blog leg ik uit hoe je je hond van de angst voor fotocamera's af helpt.
Symptomen
Een bange hond laat duidelijk merken dat het beestje angstig is. Er zijn zeker symptomen waaraan je dit kunt zien. Bijvoorbeeld:
als zijn oren plat in de nek liggen;
als ze met de staart tussen de benen staan;
als ze ineengedoken achter hun baasje gaan zitten;
als ze veelvuldig aan de lip likken;
als ze geeuwen;
als ze oogcontact vermijden;
als ze zichzelf gaan krabben terwijl hij helemaal geen jeuk heeft.
Kalmeren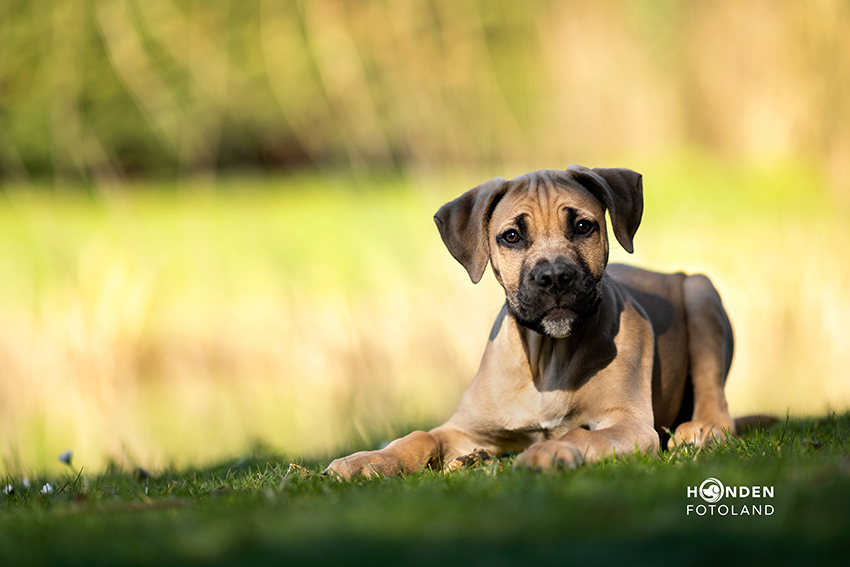 Iets wat je niet moet doen, is je hond kalmeren op het moment dat hij bang is voor iets of iemand. Onze eerste reactie is hem aaien of een soort 'troostsnoepje' geven, maar dat werkt juist averechts. Want een angstige hond heeft helemaal geen behoefte aan liefde, genegenheid en snoep, maar hij wil iemand die de leiding neemt. Een hond bezit namelijk niet dezelfde cognitieve vaardigheden als mensen en ervaren troosten als angst. Dus blijf tijdens een fotoshoot kalm en reageer assertief als je hond bang is.
Aanpak
Maar hoe pak je dit aan? Dat is eigenlijk heel simpel: trainen, trainen en nog eens trainen. De kracht van de herhaling, want het is zeker mogelijk angst bij honden af te leren. Probeer negatieve energie naar positieve energie om te buigen. Laat je hond snuffelen aan de omgeving waar de fotoshoot plaatsvindt. Ga kennismaken met de fotograaf. En laat, voordat de fotoshoot begint, eerst snuffelen aan de camera, de geluidjes van de camera en de flitser horen. Als hij rustig reageert, beloon hem dan met een aai of een snoepje. En blijf dit doen totdat zijn oren recht pieken, staart omhoog krult en hij graag contact zoekt met de camera. Forceer vooral niet. En blijf zelf ook ontspannen, praat op kalmerende toon met jouw hond en laat merken dat hij in veilige handen is. Niet alleen bij het baasje, maar ook bij de fotograaf. Tenslotte gaan we als 'team' aan de slag voor de mooiste foto van jouw hond.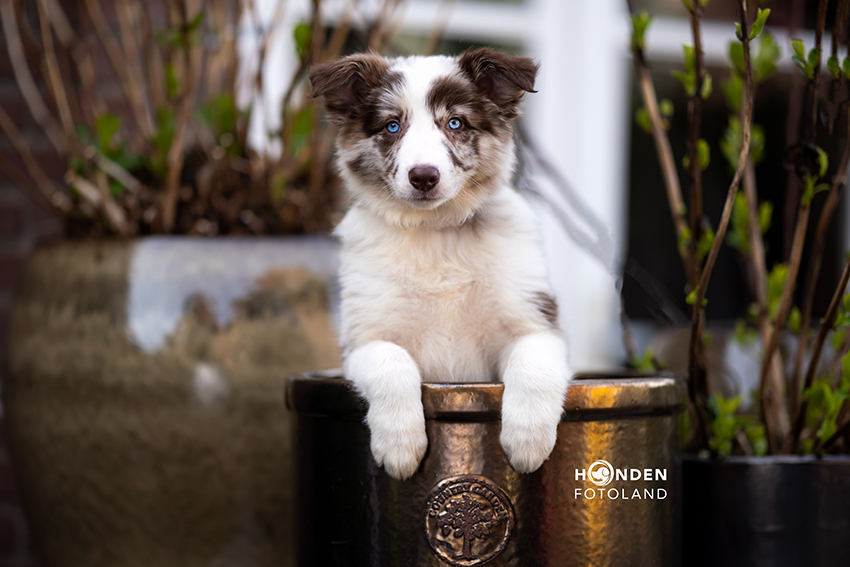 Biografie gediplomeerd fotograaf Saskia Angenent-Degens:
Saskia Angenent-Degens (Rotterdam, 1972) is gefascineerd in gedachten, emoties en gezichtsuitdrukkingen van honden. Zij ziet zichzelf als artistiek fotografe die seriematig te werk gaat. Met een groot aantal prachtige hondenportretten, vastgelegd in het hondenboek FOCUS, Hondengedachten in een flits, studeerde zij in 2022 af aan de fotovakopleiding van het Beeldcentrum in Zundert