Als hondentrimster en hondenfotograaf hoor ik veel mooie, bijzondere, grappige, leuke, maar soms ook verdrietige levensverhalen over honden. Zo maakte ik op een mooie en zonnige zaterdagmiddag in januari 2021 een gezellige fotowandeling met de baasjes van Jessie. Zij vertelden mij vol enthousiasme over de vrolijke Labrador, die onverwachts in hun leven kwam.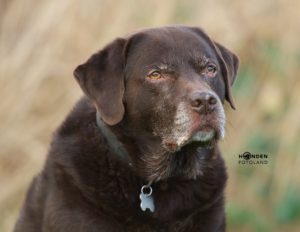 "Jessie is de allerliefste oude dibbes die er bestaat. Hij is 12,5 jaar oud en op zijn tweede kwam hij bij ons wonen
Een mevrouw, die helaas zelf niet meer zo goed voor haar viervoeter kon zorgen, plaatste een oproep op Marktplaats. Ze was op zoek naar een plezierige en fijne plek voor haar lieve Labrador Jessie. Zelf kon ze niet meer goed uit de voeten, maar wilde net zo'n warm nest voor Jessie als waar hij opgroeide.
Hoe bijzonder kan een hondenleven lopen. Toen wij Jessie ontmoetten waren we op slag verliefd. Jessie werd liefdevol ontvangen op zijn nieuwe woonadres, waar nog meer enthousiaste 'baasjes' op hem wachtten. We waren, net als Jessie, door het dolle heen. De toen jonge en krachtige hond veroverden de harten van velen en ook andere viervoeters konden en kunnen het nog steeds goed met hem vinden.
Jessie doet alles wat een Labrador in zich heeft. Van zachtaardig, aanhankelijk en betrouwbaar tot jagen en zwemmen. Zodra Jessie een sloot of meertje ziet, neemt hij een duik en vliegt zo de plomp in. Ook is hij vriendelijk naar andere mensen en goed gesocialiseerd.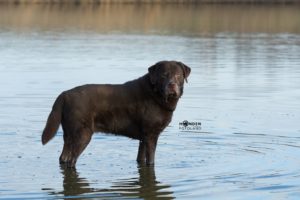 Om Jessie kunnen we lachen, maar ook met hem lachen. Hij is een boefje. Pikt iets van tafel op een moment dat niemand het merkt, denkt hij. En als we hem dan roepen, trekt hij een guitige bek. Een blik van 'ik heb niks gedaan hoor'. Geweldig! En buiten zet Jessie zijn speurneus op. Zodra hij een 'spoor' ruikt, volgt hij zijn eigen weg. Niets houdt hem tegen. Een echte jager, want na honderd keer zijn naam roepen, is Jessie in geen velden of wegen te bekennen. Het is ook zo grappig om te zien hoe de onderste puntjes van zijn oren op en neer gaan als hij hard rond rent. Zo schattig!
Jessie is de grootste schat die er bestaat. We kunnen ons geen betrouwbaardere en lievere hond wensen. Jessie is ons alles. Hij is niet meer weg te denken uit ons leven. Gewoon onmisbaar."