Het is niet de mooiste periode van het jaar om buiten te fotograferen. Toch zijn er voldoende mooie plekken om jouw hond op de foto te zetten. Waar vind je die locaties? En hoe organiseer je het om jouw hond op zijn best van het beeld te laten spatten? Dat leg ik allemaal uit in deze blog.
Een passende omgeving
Niet alle honden passen in eenzelfde omgeving. De soort hond en het karakter bepalen waar je het beste kunt fotograferen. Als je bijvoorbeeld op het strand een fotoshoot doet, dan komt een lichtkleurige hond (zoals een blonde Labradoodle) tussen het zand minder goed tot zijn recht dan een hond met veel 'tekening' in zijn vacht.
Bij lichtkleurige honden zie je bijna geen verschil tussen zand en hond en vallen ze als het ware weg in het zand, maar tussen het helmgras passen ze weer wel. Bij honden met veel kleuren in de vacht zie je het verschil juist goed. De 'tekening' geeft een fantastisch effect en een intens contrast. Je moet dus altijd goed bedenken op welke achtergrond jouw hond past en hoe je een mooi resultaat behaalt.
In de natuur
Het zoeken naar een geschikte locatie in de winterperiode is niet makkelijk. 's Winters zijn er weinig kleuren, veel locaties zijn niet fotogeniek genoeg en het weer werkt ook niet altijd mee. Regen, wind en zware bewolking maken dat je goed moet zoeken naar een bruikbare locatie. Toch zijn die er wel! De eerste eenvoudige stap is zoeken op Google Maps. Zoek bijvoorbeeld op de term 'natuurgebieden'. Dan zie je direct alle groene gebieden bij jou in de buurt. En meestal worden er ook foto's van de gebieden weergegeven, zodat je kunt inschatten of dit een gewenste locatie is voor de fotoshoot. Daarnaast kun je in Google Maps gebruik maken van de satelliet-weergave en street view om zo het gebied 'live' te bekijken.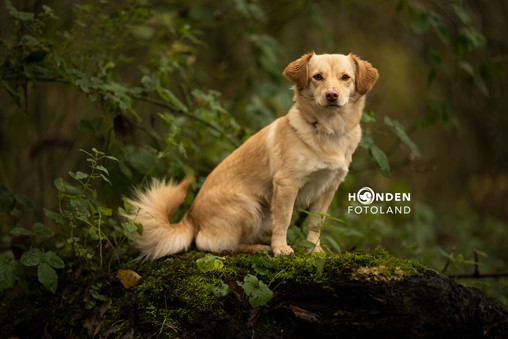 In dorp of stad
Ook in een dorp of stad zijn er prachtige plekjes om te fotograferen. Gebruik spannende straatjes, steegjes, hoekjes of ga op zoek naar bijzondere gebouwen. Belangrijk is wel dat jouw hond past in een stadse omgeving, want voor hun veiligheid moeten ze wel goed kunnen luisteren. Anders wordt het een gevaarlijke situatie.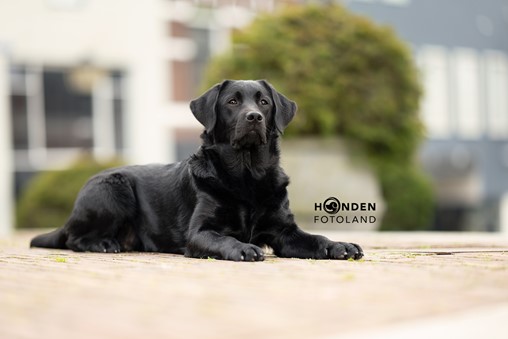 Bezoek locatie vooraf
Heb je via Google Maps een locatie gevonden? Probeer dan voorafgaand aan de fotoshoot de locatie te bezoeken. Dit probleem ondervond ik zelf. Recent stond een fotoshoot in Hoek van Holland gepland, maar ik werd door de klant erop geattendeerd (zij was dus al op pad gegaan) dat de hele straat achter het strand open lag door werkzaamheden en de witte huisjes (waar ik wilde fotograferen) tijdelijk afgebroken waren. Gelukkig ben ik een beetje bekend met de stranden in Zuid-Holland en Zeeland en konden we uitwijken naar Ouddorp strand.
Welke plek je ook kiest, maak er geen non-stop fotosessie van. Geef je hond tussendoor gelegenheid om te spelen. Dan blijft 't voor zowel de hond als voor jou een leuke bezigheid! In de volgende blog geef ik je tips & tricks over het fotograferen van je eigen hond.