"Ik heb hem gisteren nog helemaal goed geborsteld!"
De meest voorkomende uitspraak van veel hondeneigenaren. Maar hoe goed ze ook borstelen, in de praktijk blijkt dat het knap lastig is om klitten uit de vacht te houden en/of te halen. Klitten komen met name voor bij honden met krul- en fleecevachten (zoals Poedels en Labradoodles) en langharige honden (bijvoorbeeld Cocker Spaniels, Schapendoes of Afghaanse windhond).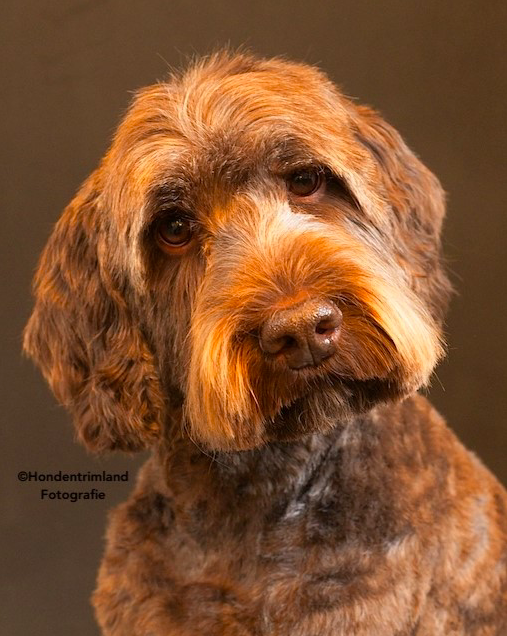 Hoe ontstaan klitten?
Klitten ontstaan op plekken waar de hond veel likt of bijt, door invloeden van buitenaf (zoals zand, modder, plassen water), maar ook (helaas) door onvoldoende vachtverzorging. Bijna elke hond speelt graag buiten; lekker rollen door het gras of zand, in het water springen, door struiken rennen, et cetera. Er blijft veel 'rommel' in een hondenvacht hangen. Daarom is zeer regelmatig borstelen en kammen zo belangrijk. Je verwijdert niet alleen al het vuil, maar je voorkomt ook het aan elkaar plakken van haren. In het ergste geval blijft er zoveel haar aan elkaar zitten, dat vilt ontstaat.
Van klitten tot vilt
Bij veel klitten ontstaat een sneeuwbaleffect, dat ervoor zorgt dat de vacht vaster en strakker gaat zitten. Vilt dus! Er is geen doorkomen meer aan en de enige optie is scheren. Veel Labradoodle eigenaren willen juist een wat langhariger hond, maar vooral dit soort vachten zijn moeilijk te doen. Dit komt door de soort vacht. Labradoodles staan bekend als niet verharende honden. Dat klopt, maar dat heeft wel gevolgen voor hun vacht. Behalve dat alle loskomende haren erin blijven hangen en het vuil van buitenaf daarbij komt, is het nagenoeg onmogelijk om zelfs met een dagelijkse borstelbeurt klitten te voorkomen. In het bijzonder op plekken als oksels, liezen en achter de oren, waar juist de haren veel tegen elkaar aan schuren.
Gevolg voor de hond
Klitten en vilt hebben absoluut invloed op de gezondheid van een hond. Het kan zelfs een gevaar vormen. Wat betekent klit-/viltvorming bij een hond?
pijnlijk gevoel;
minder zin om te bewegen;
ademen van de huid blokkeren;
kans op huidproblemen (hotspot);
nestelen van bacteriën;
jeuk, irritaties.
Voorkomen
De enige manier om klitten te voorkomen is borstelen, borstelen en nog eens borstelen. De ene hond heeft meer verzorging nodig dan de andere, maar allemaal hebben ze een borstel-/kambeurt nodig. Vooral het klitvrij houden van langharige honden en Labradoodles zijn een heel karwei. Denk gerust aan zo'n 2 tot 6 uur per week. Dit is echt in het belang van de hond.
Oplossing
Natuurlijk is voor alles een oplossing. Ook het ontklitten van een hondenvacht! Zorg om te beginnen voor een goede borstel (bijvoorbeeld een Activet of Les Poochs) en een metalen kam. Plan bewust tijd vrij om de hond te borstelen. Denk bij het borstelen niet alleen aan de bovenkant van de vacht, maar nog meer aan de onderkant bij de buik. Begin onderaan, maar werk laag voor laag met de groeirichting mee naar boven. Gebruik bij veel klitten ontklitspray en een ontklitmesje om het pijnvrij eruit te krijgen. Leer de hond dat borstelen nodig is en stel hem/haar gerust, maar beloon wel tijdens of na het borstelen. Maak het een feestje voor jouw hond!
Tekst: www.hondentrimland.nl