Het is weer lente en dat betekent lekker lang wandelen met je hond. Hier horen dan ook vieze pootjes en natte haren van het zwemmen bij. Hier heeft Thomas Stofzuigers dé oplossing voor! 
Verwijder gemakkelijk opgedroogde modderpootjes van vloeren, tapijt en meubels met De Thomas Aqua+ Pet & Family. Naast zand, modder en haren verwijderen, zuivert een Thomas stofzuiger ook de lucht. Hierdoor zijn de stofzuigers ook extra goed geschikt voor mensen met allergieën. De stofzuigers zijn ontwikkeld met de laatste technologieën en van echte Duitse THOMAS-kwaliteit. 
Benieuwd welke stofzuiger het beste bij jouw thuissituatie (en huisdier) past? Bekijk onze innovatieve stofzuigers.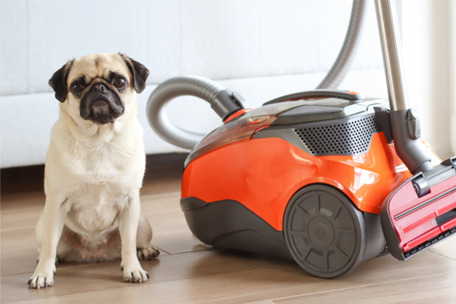 De THOMAS CYCLOON HYBRID FAMILY & PETS is perfect voor huisdiereigenaren die dagelijks even snel de stofzuiger willen gebruiken en soms extra grondig willen kunnen reinigen. De eerste zakloze cycloonstofzuiger, die dierenharen verwijdert en de lucht 100% merkbaar verfrist. Deze stofzuiger zonder zak zuigt zonder moeite haren en ander vuil van je viervoeter op.

De Zyklon-filterbox van de cycloonstofzuiger heeft een systeem met dubbele kamer waarbij allergeen fijnstof van dierenharen en grofvuil gescheiden wordt. Indien gewenst kun je de Zyklon-filterbox gewoon vervangen door de meegeleverde AQUA-filterbox en hiermee extra grondig stofzuigen. Hierbij worden dierlijke geuren en stof opgezogen en in het water gebonden. De lucht wordt 100% merkbaar verfrist.

●     Stofzuigen zonder zakmet de 2 kamer cycloon Zyklon-filterbox.
●     Geschikt op harde vloeren, tapijten en stoffering.
●     Drie zuigstanden
●     Veel zuigvermogen: 1700 Watt.
●     Perfect voor mensen met allergieën en huisdiereigenaren.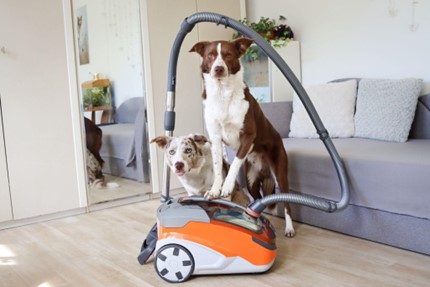 De THOMAS AQUA+ PET & FAMILY is de perfecte stof- en waszuiger zonder zak voor huisdiereigenaren en gezinnen. Dankzij het innovatieve vochtzuigsysteem verwijdert de stofzuiger op effectieve wijze dierenharen en vlekken van tapijt en meubels. Zelfs vloeistoffen worden opgezogen. Dierenharen, fijnstof, pollen, mijten en ander vuil worden in het water van de Aqua-filtratie opgenomen en afgevoerd.
Dankzij het sproei-extractiesysteem is de THOMAS Pet & Family perfect voor nat reinigen en voor het verwijderen van vlekken. Met een gerichte dosering wordt een reinigingsmiddel op harde vloeren zoals tegels aangebracht of onder druk diep in tapijten, stoffering of gestoffeerde meubels gespoten.


●

    
Geschikt voor huisdiereigenaren en gezinnen.

●

    
Stofzuigen zonder zak.

●

    
Veel zuigvermogen: 1700 Watt.

●

    
Zuigen en natreinigen in één handeling.

●

    
Hartnekkige vlekkenverwijdering door he
t
sproei-zuigsysteem.
●

 
Krachtig, gemakkelijk te reinigen turbomondstuk.
●

 

Uitgebreide accessoire