De weg naar behoud van een bewegelijke en actieve hond
Samen naar buiten, bijvoorbeeld voor een lange wandeling in het bos. Dit is iets waar veel hondeneigenaren en honden samen van kunnen genieten. Net als bij ons kan ook bij de hond de bewegelijkheid afnemen door stijve en stramme spieren en gewrichten. Daardoor kan die mooie, fijne wandeling in het bos opeens een zware opgave worden. Gelukkig zijn er steeds meer mogelijkheden om de hond te ondersteunen om langer bewegelijk en mobiel te blijven.
Supplementen kunnen mogelijk een uitkomst bieden
Eén van die manieren van ondersteuning is door het geven van een voedingssupplement of een aanvullend diervoeder. Er zijn diverse voedingssupplementen verkrijgbaar bij dierenspeciaalzaken of bijvoorbeeld in de online verkoopkanalen. Deze voedingssupplementen bevatten bijvoorbeeld enkel glucosamine of bestaan uit complete samengestelde melanges van werkzame bestanddelen, om zo op meerdere gebieden het bewegingsapparaat van de hond ondersteuning te kunnen bieden.
Een nieuw alternatief
Een nieuw alternatief voor de ondersteuning van de spieren en gewrichten van honden is sinds kort verkrijgbaar. Dit product wordt geproduceerd in Zwitserland, volgens zeer strenge kwaliteitseisen. Met dit product, dat Sana-Souplesse heet, wordt de hondeneigenaar een compleet alternatief geboden als het gaat om de ondersteuning van spieren, gewrichten, kapsels en ligamenten en zodoende de bewegelijkheid en mobiliteit van de hond. Zo kunt u uw hond de ondersteuning geven die de hond nodig heeft en kunnen de langere wandelingen weer tot de mogelijkheden behoren.
Wat maakt Sana-Souplesse bijzonder?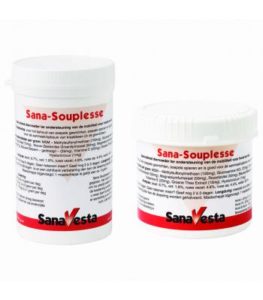 Door in totaal 10 (!) werkzame bestanddelen* te gebruiken is er een unieke en complete combinatie ontstaan, om het bewegingsapparaat van
de hond krachtige ondersteuning te bieden.
Sana-Souplesse is er speciaal voor de ouder wordende hond of de sporthond en is er op gericht om deze honden de juiste ondersteuning te bieden. Sana-Souplesse is verkrijgbaar in verpakkingen van 125 gram en 275 gram.
Sana-Souplesse is een product van Sana-Vesta uit Eelde. Kijk op www.sanavesta.nl/sana-souplesse-gewrichten-en-spieren
*Werkzame bestanddelen: MSM, glucosamine, chondroïtine, Nieuw-Zeelandse groenlipmossel, magnesium, rozenbottel, gedroogde blauwe bessen, vitamine E, groene thee-extract, hyaluronzuur.